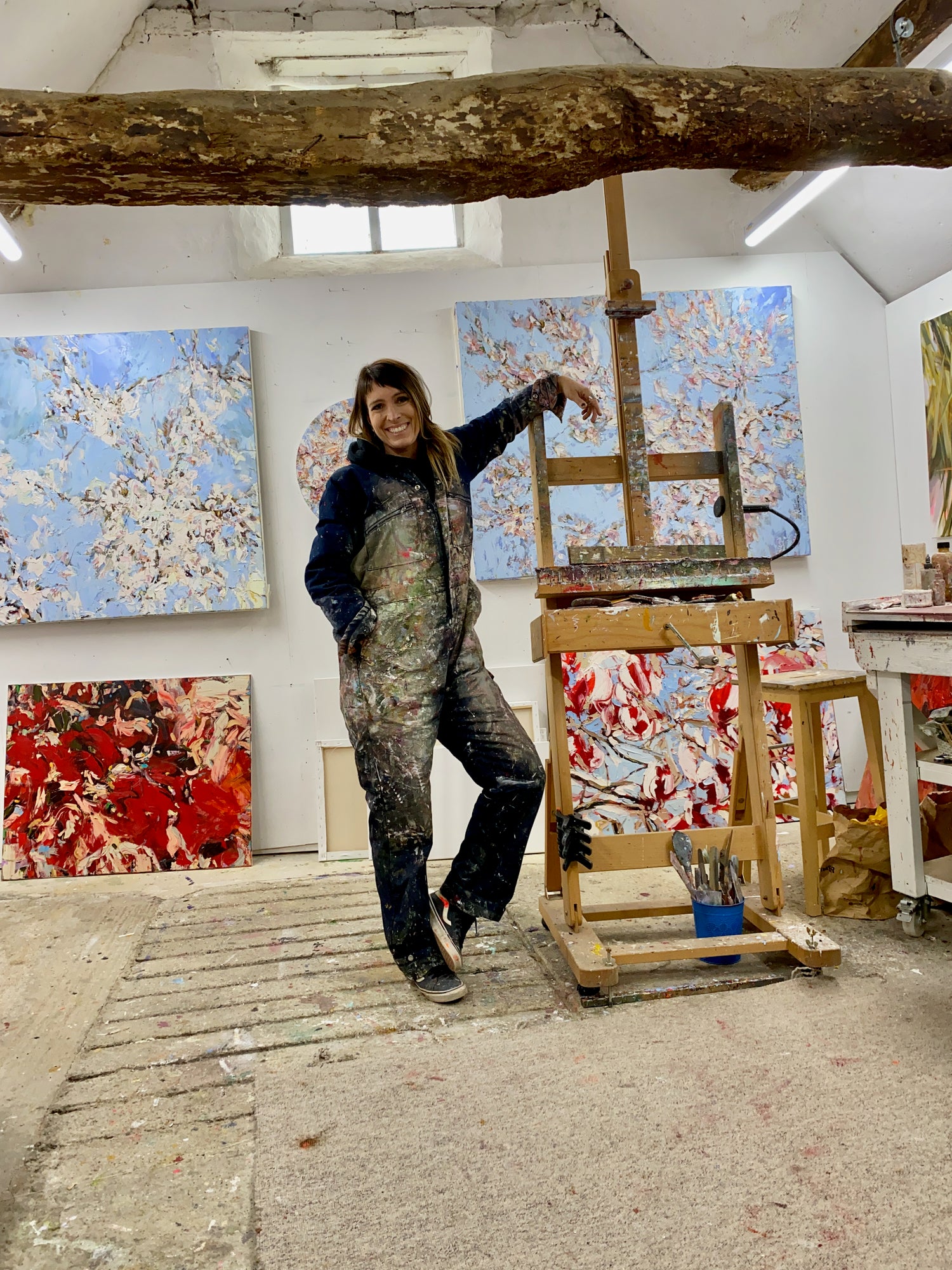 Paint is to be relished on many levels, from the instinctual and emotional, to the sensual and evocative.
My thinking is centred on the activity of applying paint, and I feel as well as think through it.
-
I am an expressive contemporary oil painter living and working in Kelmscott by the Thames. I was born in 1979 in Germany and after my degree in Sports Marketing  travelled extensively through my work in Motorsport Marketing before moving to the UK, where I now happily live and work with paint.  
My work is in private collections in the US, the British Virigin Islands, Ireland, the Uk, France and Germany.
Working in the studio
About Painting Paintings
I am interested in sharing my observations of my immediate surrounds and perceptions of the senses through the medium of colour, gesture and paint. 
My paintings contain a sense of nature and of florals but are not depicting a specific flower or element in nature. While the observations and subsequent expressive marks are very personal, I entice the viewer along to visually explore, to find themselves engaged and identify with the painting on a personal level.
The joy and pleasure is in a swath of paint that leads you into the painting, in marks that have a physicality to them, a dominance then offset with some flirtatious flicks of colour seducing you to a smile.
My studio is filled with the smell of oil paint. You find big heaps of paint on my palette, stacks of art books and seductive colour-pops in the form of collected mementos, cards with dried clumps of discarded paints scraped from surfaces, small colour studies and fresh flowers.
Creativity being a process, many painterly decisions are made along the way, not all successful, many surprising, but all adding to the joy of creating, of pushing paint, of playing with colour, aesthetics, and visual design. These traces of the creative process are an essential part of my work.
My fundamental quest is to express something personal in a bold yet playful way, composing lively, elegant, emotion-filled and playful abstracted scenes. My love for lush rich oil paint shows in the application and the dynamic surface of my works of art. What excites me is the direct dialogue between the canvas, the paint, my gestures and my brush. 
The paintings don't just paint themselves in an obvious way but I work and wrestle, sometimes dance with them it feels. The narrative is in the paint itself and laid bare by way of application. I hope they are accessible to all, not complicated but bringing the viewer a reaction that involves vision, touch and smell.
This intimate chat between me and my paintings leads to engaging multifaceted works that are fresh and very personal.   
You are invited to join the chat!
CV & Exhibitions
CV
Turps Correspondence course 2020/21 and 2021/22
Dedicated studio space and full-time painter since July 2020
Short Courses – expressive painting workshops with Sam Bassett, Gary Wragg, Simon Carter, Paul Wadsworth, Louise Balaam, UK
Assistant tutor at The Norfolk Painting School, Norfolk, 2016 - 2018
12 month "Diploma" at the Norfolk Painting School, Norfolk, UK,  2015 -  2016
Career in Motorsports Marketing - 2004-2018
University of Bayreuth, Germany and Barcelona, Spain, Dipl Sports, Economics, Business Management and Law - 1998 - 2003
Gymnasium Ehingen, Germany,  A-level, high school diploma - 1990 - 1998
Upcoming Exhibitions
Chelsea Pop Up Exhibition, London, Lucinda Dalton Gallery, 06.12.-20.12.23
Manchester Art Fair, Manchester 17.-19.11.23
Past Exhibitions
The Other Art Fair, London Shoreditch, 12.-15.10.23
Affordable Art Fair, Lucinda Dalton Gallery, London, Hampstead, 10.-14.05.23
Open Studios, 13.-21.05.23

Solo Exhibition "Colourful Gestures", Brian Sinfield Gallery, Burford, 06.-20.05.23

Affordable Art Fair, Lucinda Dalton Gallery, London, Battersea 09.-12.03.23
Notting Hill, Lucinda Dalton Gallery, 23.-29.11.22
ING Discerning Eye 2022, Mall Galleries, 11.11.-20.11.22
The Other Art Fair, London Shoreditch, 13.10.-16.10.22
Group Exhibition, Zari Gallery, London, 01.-30.09.22
Summer Exhibition, Brian Sinfield Gallery, Burford - August 2022
Oetker Collection Art Programme, The Lanesborough Hotel, London, May - December 22
Open Studio, Clanfield -  May 2022
Solo Exhibition "Time to smell the flowers", Brian Sinfield Gallery, Burford - 26.03.-16.04.22
The Other Art Fair, London - 17.-20.03.22
The Other Art Fair, London - 16.-20.10.21
Summer Exhibition, Brian Sinfield Gallery - August 2021
Open Studio, Clanfield - May 2021
Gallery Representation
Brian Sinfield Gallery, Burford, UK

The Brian Sinfield Gallery is one of the most prestigious exhibition spaces outside London for contemporary painting and one of the longestestablished galleries in the Cotswolds.

The gallery specialises in 20th Century, traditional and semi-abstract work.

.

The Brian Sinfield Gallery, 127 The Hill, Burford, OX18 4RE, UK

Gallery website

Lucinda Dalton Gallery, UK

Lucinda Dalton Gallery was founded with the aim of promoting fresh and exciting works from a carefully curated selection of contemporary artists, combined with first class client service. The gallery holds regular exhibition pop ups and attends national and international art fairs, offering exclusive access to many works to a diverse and growing international client base

Gallery website